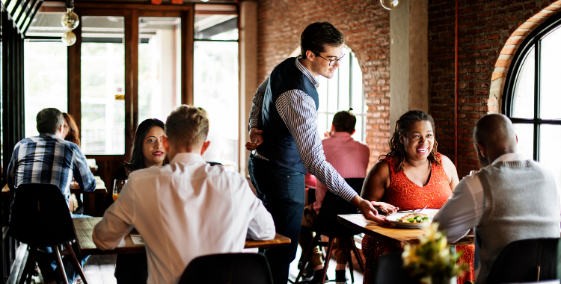 Health and safety is no longer a simple tick box. As we move into a new year where updated regulations are more common than a crisp packet, staying on top of compliance is now top of the list.
We know that keeping up with government guidelines can be a headache. From risk assessments to what to sanitize next, there's an encyclopedia of tasks to think about on a daily basis.
But fear not! We've compiled everything you need to operate in the new normal into the below restaurant health and safety checklist.
Here you will find a bunch of up to date resources for each of the key areas you need to consider:
Risk Assessments

Risk assessments are an essential part of running a restaurant. By identifying and controlling potential hazards, you can ensure your venue is safe for both your staff and your customers.
If you have more than five employees, you must conduct and record a risk assessment in line with Health & Safety regulations.
Traditionally this takes place on Excel, getting lost in a forgotten about a paper trail. But with the heightened focus on risk, it's more important than ever to keep track of your documentation.
With HOPSY you can store past assessments and schedule reviews all on one platform.
Below are a selection of tools, helping you to get it right the first time around.
Your Guide to Risk Assessment Templates
Not sure where to start? Begin with our 5 step plan for the risk assessment process, our guide covers everything bars and restaurants need from start to finish.
HOPSY's Risk Assessment Tool
Build your own customized risk assessment template for your restaurant within HOPSY for free today. An easy set-up process saves you time and will always alert you when an assessment is due.
Compliance Checklists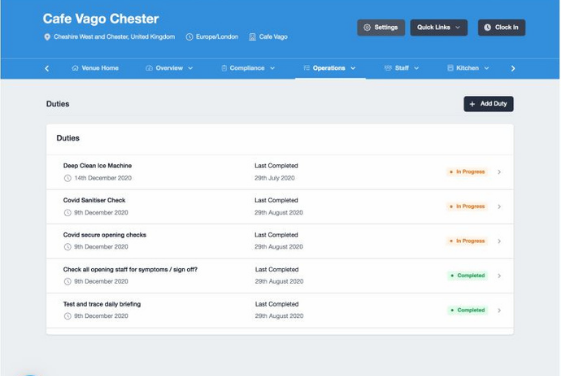 The 'C' word gets thrown around a lot in hospitality - and for once we're not talking about coronavirus.
If you're a venue operating in the UK, compliance is a part of your daily life. From inspections to fire safety, there's plenty to keep you busy in making sure you abide by quality standards.
But it's more than ticking things off a list. Staying compliant is good practice, especially in a Covid-19 world. Daily, weekly and monthly checks are required to ensure your restaurant operates legally.
Find all you need to stay compliant below:
Why Online Compliance Checklists Are Important
With a growing list of new guidelines comes a need to go digital. Find out why online checklists are the future of compliance.
###How to Ace Your Health and Safety Inspection
Pass your health and safety inspection with flying colours by following these foolproof tips.
###HOPSY's Complete Compliance Package
Imagine if all your checklists, assessments, and policies were stored in one place! Well at HOPSY, we've made your dreams come true with our complete compliance package.
Covid Secure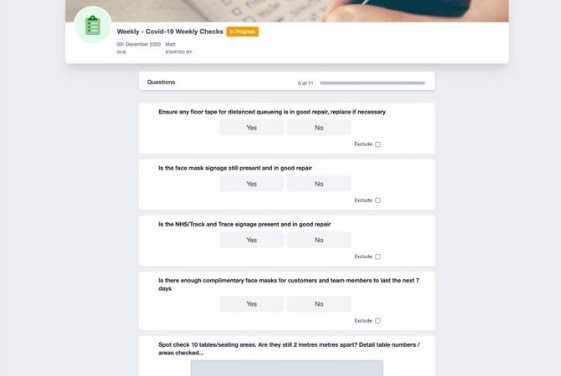 Covid-19 has been the cause of many headaches for the hospitality industry. Keeping on top of new guidelines is like tracking British weather.
But we've got you covered.
At HOPSY we have your back when it comes to staying Covid secure. Below is all the information you'll ever need to run a restaurant in 2020 and beyond.
Covid-19 Most Useful Sites and Resources
Make sense of what's the law, what's not and everything in between to help your business operate in the new normal with our complete resource guide
Stay Covid Secure with HOPSY
Find out how our tools on Hopsy give you peace of mind by keeping you up to date with the latest regulations.
Tech Innovations for a Covid-19 World
Forward-thinking solutions that are streamlining how restaurants and bars operate in alignment with new regulations.
How to Run a Covid Friendly Restaurant
Stay 100% Covid secure by following our simple steps.
Cleaning Schedules
Covid-19 has impacted the way every business manages its cleaning. From extra sanitisation to reducing the risk of transmission, we've experienced a fundamental shift in how we keep a clean house.
But more rules to follow doesn't have to mean more paperwork.
Below you'll find exactly what you need to effectively manage your cleaning.
Why You Need A Cleaning Schedule Template
Online cleaning schedules are no longer an option. This fuss-free, effective solution is a simple way to reduce manual compliance admin.
HOPSY's Cleaning Schedule Tool
Never miss a spot with our clear cleaning schedule tool. Your staff will always know exactly what needs doing, keeping your restaurant clean, tidy and safe for use.